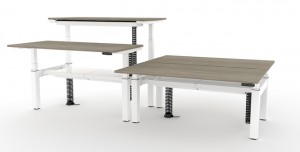 Price Range: From £995+VAT
Piezo™ anti-collision safety mechanism
Sliding tops and cable management as standard
Minimum 5 year guarantee
A premium Sit-Stand range. Contact us for a price for your specific requirements.
No other electric height adjustable desk system in the UK offers such a complete package in one desk; from sliding tops to fold-down cable trays, premium digital controllers to anti-collision mechanisms – the Gravity electric height adjustable bench desk is a no-compromise premium solution offering lifestyle benefits to office workers and home users all over the world.
A variety of desk mounted screens and accessories are available, but standard features of the Gravity include:
• LINAK motor – world-renowned manufacturers of actuators based in Denmark. Offering height adjustment from 680mm to 1280mm with a movement speed of 38mm/s, available with a frame colour of White, Black and Silver (RAL 9006). Both single and double desks available in widths of 1000mm, 1200mm, 1400mm, 1600mm & 1800mm.
• Sliding tops and flip-down cable trays (under the desktop) connect to the harness system cable riser, dropping wires neatly down into the lower cable channel – which is perfect for long runs of desking whether in large open plan offices or individual desks.
• Piezo™ anti-collision safety mechanism as standard. Provide a longer lifetime to your office equipment – safeguarding your investment because it prevents material damage to a desk if a collision with a solid object occurs.
• ZERO™ tehcnology. Standby power consumption is reduced from 1-2 watts (in a typical electric desk) to just 0.1W, saving money on yearly bills when compared to competitor products.
• PVC free. For health reasons and for the sake of the environment the LINAK actuators are PVC-free as standard – therefore more environmentally friendly than their predecessors.
• 10 year guarantee on all wooden and metal parts, 5 years on actuator/electrical components. FIRA accredited, quality and strength is guaranteed.