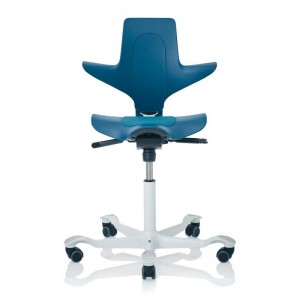 Price Range: £280+VAT
10 year guarantee
Balanced Movement Mechanism
Active sitting, with integrated foot grip base
The HAG Capisco Puls is a new generation of chair attuned to the contemporary, dynamic workplace. Scandinavian made, it is a Red Dot Design Award winner. The chair is designed for active sitting;  it facilitates a variety of energising sitting positions, creating a dynamic flow in your work life.
While great for longer intervals, the HAG Capisco Puls is perfect for temporary sitting for people that shift between standing and sitting positions. A fully functional working chair, simple to adjust, vibrant and colourful makes the Capisco Puls stand out from the crowd.
Seat height range: supplied with 200mm gas lift as standard, giving seat height range of 455-620mm, making it suitable for working at desks 720mm and higher.
Alternative gas lift heights available: 150mm with seat height range 390-525mm and 265mm with seat height range of 540-795mm.