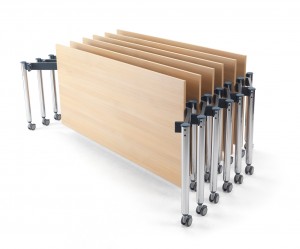 10 year guarantee
Simple to move, fold and store
Fully modular shapes for any configuration
FourKonnect (formerly Kite) can revolutionise the way you use space. Simple to move, fold and store. Our folding tables are designed to optimise the meeting experience in all environments from the boardroom to the classroom. Each person has their own space with good line of sight, sits at a straight edge, no one straddles a table leg, writes over a seam or squashed into a corner.
Create an agile working environment where a single person can quickly reconfigure tables into new working styles. The locking castors limits movement, negating the need for linking devices. Tables are easily folded and stored without any lifting or the need of a trolley. With a variety of leg options,table top shapes, sizes and colours. Call us for further details or to request a site visit.